Steve & Debby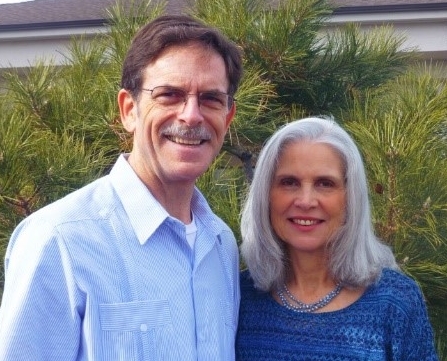 Steve and Debbie Robinson are missionaries with Mission Aviation Fellowship as a pilot/mechanic family. Steve is a pilot, a flight instructor, and an airplane mechanic. While these skills were honed overseas, they uniquely qualify him to serve as a maintenance instructor at MAF's headquarters in Idaho. Steve currently serves with MAF's technical training department headquartered in Nampa Idaho. As an instructor, Steve evaluates and trains pilot/mechanic candidates prior to their leaving for the field.
The Robinsons joined MAF in 1984. They first served in the very remote village of Ahuas in the Central American country of Honduras. There Steve was a base manager and flew for La Clínica Evangélica Morava (an outreach of the Moravian church), various other churches and for the UN in support of their refugee care programs. Their second, third and part of their fourth term, the Robinsons lived in Puerto Ayacucho, Venezuela. During this time, Steve flew for New Tribes Mission, Free Church of Venezuela, independent missionaries, national indigenous churches, government health programs, and community services. While they were stationed in Venezuela, Steve became an instructor pilot overseeing flight training for new pilots. During their fourth term, the Robinsons were asked to transfer to Oaxaca, Mexico, where Steve was an instructor pilot. Throughout the Robinsons' time serving in Latin America, Debbie did radio flight-following for Steve and the other pilots. She also poured herself into creating a loving Christian home for her family.
Steve was born in Redlands California and grew up in the San Diego area. He accepted the Lord while at a youth camp before his senior year in high school. During college, he felt the Lord leading him into missions. Psalms 37:4 is one of Steve's favorites. "Delight yourself in the Lord and he will give you the desires of your heart." "As I read this verse it occurred to me that the true desire of my heart was God. That is what I truly want more of…I want Him."
Debbie was born in Alamogordo, New Mexico, and spent most of her growing up years in San Diego, California. She accepted the Lord at age 12 through the influence and testimony of her best friend. Debbie attended Berean Bible College in San Diego as she wanted a better foundation in God's Word. Debbie met Steve, who was also attending Berean, and they were married in 1983.
The Robinsons have two adult children. Their son Jesse was born while they served in Honduras. He is now married to Bré and they live in Redlands CA. Their daughter Hannah was born while serving in Venezuela and currently still lives with Steve and Debbie.
Serving 15 years in Latin America gave Steve and Debbie a real love for Latin Americans and their culture, and returning to America left a hole in their hearts. God filled that hole in an unexpected way. Steve was approached by some Honduran friends to step in and help a Spanish Language church plant whose pastor had lost his visa. Steve started by teaching Sunday School and after a while was asked to become their pastor. Debbie shares in this work too as she can by ministering to the little ones during the church service.
Serving with MAF overseas in Latin America uniquely equipped Steve and Debbie for this current phase of life. The Lord uses their many years of experience in Latin America to encourage and equip young missionaries, as well as ministering cross-culturally in Nampa.
To fund the worldwide ministry of MAF, God is faithful in providing loyal, generous ministry support from thousands of His most caring people. Would you please prayerfully consider joining in partnership with Steve and Debbie in their ministry with MAF through prayer or financial support?
Email:
srobinson@maf.org
[
back
]